Arrests after body found in Southampton industrial bin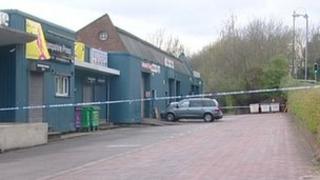 Three people have been arrested on suspicion of murder after a body was discovered in an industrial bin in Southampton.
The body was found by firefighters tackling a fire in a bin on the Empress Road Industrial Estate early on Sunday.
Two men, aged 28 and 25, and a 20-year-old woman, all from Southampton, were arrested in the city.
Hampshire Police said they were trying to identify the victim but could not yet say if the body was male or female.
A post-mortem examination was being carried out, the police said.
'Urgent inquiries'
Thomas Lewis Way was closed near the junction with Empress Road after the body was found at about 03:00 BST.
Det Insp Simon Baker said: "We are making urgent inquiries to identify the body."
The detective said he was unable to say whether the victim was male or female, their age or how badly burned the body was and said the condition of the body was "hampering" the identification.
The bin has been removed as part of the investigation and a fingertip search of the area was being carried out.
Hampshire Police have appealed for information from anyone who witnessed any suspicious activity in the area.