HMS Westminster in £14m drug seizure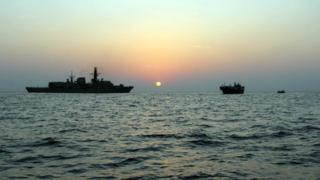 The crew of a Portsmouth-based warship has seized heroin worth almost £14m from smugglers in the Indian Ocean.
HMS Westminster despatched a Merlin helicopter and boarded a vessel which contained more than 70 bales with 180kg (400lbs) of pure heroin inside.
Capt Nick Hine said: "These smugglers have failed in their quest to make money by bringing misery to those addicted to this harmful substance."
The ship's mission is to combat criminal activity on the seas.
It was tipped off about the suspicious dhow by the Royal Australian Navy's Cdr Jonathan Mead.