Navy's HMS Dragon commissioned at Portsmouth Naval Base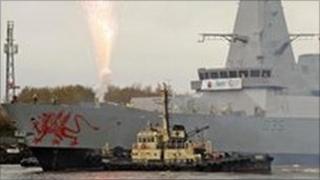 The Royal Navy's latest warship has officially joined the fleet.
Type 45 Destroyer HMS Dragon was commissioned in a colourful christening ceremony attended by hundreds at Portsmouth Naval Base.
The vessel is the fourth ship of its kind built by BAE Systems in Glasgow and will be affiliated to Cardiff.
Type 45 Destroyers are used in air defence to protect UK national and coalition forces against enemy warcraft and missiles.
The chaplain of the fleet, the Venerable Scott Brown, conducted the ceremony attended by Susie Boissier from BAE Systems and the Second Sea Lord, Vice-Admiral Charles Montgomery.
The hour-long ceremony was rounded off in traditional Royal Navy fashion by the cutting of a commissioning cake.
Commanding officer Darren Houston said: "It's a very special day which marks the end of our trials phase and the transition to front-line service.
"I am very pleased that so many families, friends and affiliates have been part of our momentous day."
HMS Dragon is the fourth of six Type 45 Destroyers to be built for the Royal Navy, all of which are based in Portsmouth.
HMS Daring was the first to be commissioned in July 2009 with the fifth - HMS Defender - set to arrive in Portsmouth this summer.
All six are scheduled to be in service by the middle of the decade.