Southampton's Lee Barnard cleared of attack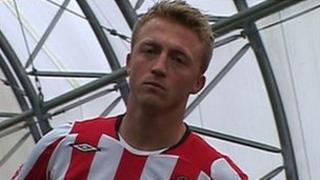 Southampton striker Lee Barnard has been found not guilty of attacking a man outside a bar.
Mr Barnard, 27, was cleared at Salisbury Crown Court of one charge of assault causing actual bodily harm.
It followed an incident outside Southampton's White House bar on 3 October 2010 which left a 27-year-old man unconscious with head injuries.
Mr Barnard signed for the Championship club from Southend United in January 2010.