Portsmouth budget thriller 'could be set for big screen'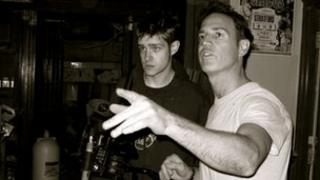 An independent film shot on a shoestring budget in Portsmouth could go global.
All The Fear of the Fair cost just £500 to be made and used local volunteers for its cast.
A local fish and chip shop owner plays the lead role in the film which showcases on and off-screen talent from across Hampshire.
Described as a thriller, the producers are now hoping to find a worldwide distributor for the film.
The film's main backdrop is The Regal Palace in Kingston Road, a former cinema which was turned into an Alice In Wonderland themed nightclub before it closed.
Filmed in only a few short weeks, some of the cast worked up to 18 hours a day on set before building work commenced to convert the cinema into a care home.
'Man-sized cobwebs'
Writer and director Chris Jupp, whose day job is cutting hair at his nearby salon, said it turned out to be the perfect set for the storyline.
He said: "The place had been derelict for 14 years and when I first went in, I was really spooked.
"It was pitch-black and I just had a torch to see by. There were dodgem cars, clowns, circus posters, and man-sized cobwebs.
"It was an amazing place with huge murals of freaky Alice in Wonderland characters painted randomly around the walls.
"There was even a stained glass window and a pulpit. Everywhere you went, you felt as though you were being watched.
"Just being in the place was scary."
In All The Fear of the Fair, a fairground owner decides to build a youth club after some children are killed in a rollercoaster accident, but his health is failing.
He sells the building to a developer who promises to finish the job. But when he goes back on his word, bad things start to happen.
Fear of clowns
Executive co-producer James Jones has put the word out to distributors in the hope of securing a worldwide release for the 80-minute feature film.
The 24-year-old, from Fareham, said: "That could be through small independent cinemas who want to include it in their festivals or it could go straight for international DVD release.
"Also, it could get picked up by an internet on-demand film service where people will be able to download it straight to their computer."
Mr Jupp, 46, also has high hopes for the film.
He added: "If you're scared of clowns, the dark or confined spaces, then you will really enjoy this film.
"We're 100% sure it's as good as we can make it.
"Some of the smallest budget films have been big box office hits, and that's what we're hoping for. If we can use this as a springboard to a slightly bigger budget film, that for us will be a really successful outcome."