James Allen arrest: Winchester stab victim speaks of shock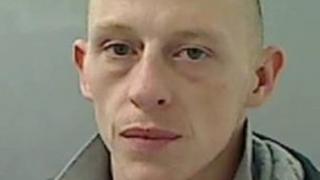 A man who was hurt by a double murder suspect arrested after a police manhunt, has spoken of his shock.
James Allen was jailed in 2003, after Brian Butt, 67, was stabbed outside his Winchester home during a burglary.
Mr Allen was convicted after he and an accomplice tried to force their way into Mr Butt's home, detectives said.
Mr Allen, 36, was arrested in south Leeds at 07:20 BST over the murders of Colin Dunford, 81, in Middlesbrough and Julie Davison, 50, in Whitby.
Det Ch Supt Gordon Lang, of Cleveland Police, said Mr Allen had been convicted of burglary and wounding with intent, following a trial over the case involving Mr Butt at Southampton Crown Court.
Mr Butt said he was shocked to see the man's face on television.
"I thought I knew the name from somewhere, then I saw his picture and it was definitely him," he said.
"I don't want to talk about what happened. They came here and I was stabbed four times, but I was the lucky one."
More than 100 detectives from three police forces were involved in the operation to find Mr Allen.
He was arrested on his birthday after an off-duty officer saw a man fitting his description.