Memorial garden to open in memory of last Titanic survivor Millvina Dean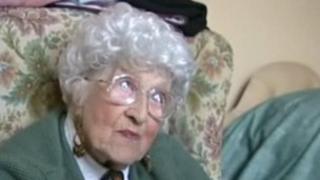 A garden in memory of a woman who became the last survivor of the sinking of the Titanic is set to open in Southampton.
Millvina Dean was just nine-weeks old when the ship sank after hitting an iceberg in the Atlantic in the early hours of 15 April 1912.
She died three years ago, aged 97, at a care home in Netley Marsh, New Forest.
The Millvina Dean Memorial Garden will be unveiled at the end of the month at Southampton's SeaCity Museum.
'Unique lady'
David Hill, from The Millvina Fund, which financed the project, said two benches would be laid out alongside a plinth bearing Miss Dean's name.
He said: "The ceremony will be quite straightforward, simple and brief - Millvina wouldn't want anything fancy - she wasn't that sort of person.
"She was a unique lady and she went everywhere meeting people about the Titanic. She was a great person and the oldest and final Titanic survivor."
"The garden will be somewhere where people can sit and relax."
Miss Dean's mother, Georgetta, and two-year-old brother, Bert, also survived, but her father, Bertram, was among those who perished when the vessel sank.