Southampton biomass power station designs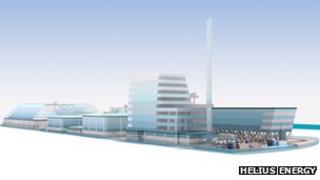 The developer of a proposed £300m biomass power station in Southampton has released revised designs for the plant.
Helius Energy wants to build the 100 megawatt wood-fired plant at the city's Western Docks.
Residents in nearby Freemantle and Millbrook, who protested last year, said they were not being listened to.
The company said the three new proposed designs addressed concerns raised by the community such as size and height.
Residents opposed to the plans accused Helius of paying "absolutely no attention to their concerns or requests" and of excluding them from information.
No Southampton Biomass (NSB) called it an attempt to "sneak in a large scale development under our radar with purposely misleading literature and dubious environmental claims".
Revised site
NSB spokesman Steven Galton said: "Once again it is concerning that we are learning of the project through the media instead of from the company that is supposedly consulting directly with us.
"It still feels Helius are working to their own agenda and the very public they are meant to be consulting with are no more than an afterthought in the whole process.
"Helius are more concerned with positive press than an adequate consultation.
"How can Helius supply the media with images and yet place none on their own website for concerned residents to see?"
A 12-week consultation will begin on 14 May with five public exhibitions planned for Millbrook, Marchwood and Freemantle in June and July.
The public will be able to influence which of the three architect's designs for the exterior of the power station is taken forward to a planning application, which is set to be submitted in the autumn.
Helius Energy hopes to create 100 jobs from the development.
In March the company said, after discussions with Associated British Ports, it had secured a new site 125m further away from homes.
Helius Energy said its revised plans were twice as far from the nearest residents, lower in height and for a building with a smaller footprint.
NSB said they were "massively disappointed" when the revised location was revealed.