Catholic Church challenges priest child rape liability ruling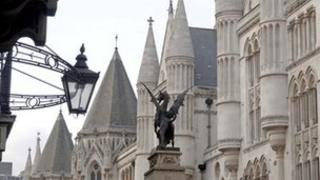 The Diocese of Portsmouth is challenging a High Court ruling that the Roman Catholic Church can be held liable for the sex crimes of priests.
Last year Mr Justice MacDuff gave a decision in favour of a woman, who claims she was raped and assaulted as a child by a priest of the diocese.
The woman, now aged 47, alleges she was abused by the late Father Wilfred Baldwin at a Hampshire children's home.
The judge ruled the diocese "may be vicariously liable" for his actions.
Lawyers for the claimant said of the ruling in November 2011 that it was the first time a court had been asked to rule on whether the "relationship between a Catholic priest and his bishop is akin to an employment relationship".
'Legal principle'
Mr Justice MacDuff decided that the professional relationship was sufficiently close so as to impose responsibility.
But the church disputes that and wants the ruling tested.
It claims it can not be held vicariously responsible because there was no formal employment relationship with its priests.
Austen Ivereigh, spokesman for the Roman Catholic Diocese of Portsmouth, said: "What this case is about is saying it is wrong to apply an area of law, which normally applies to commercial businesses, to the church in this case.
"[This is] because the relationship between the bishop and priest is different from that between an employer and employee.
"So it's an important case about legal principle."
The appeal is part of a civil case brought by the woman, who claims she was repeatedly sexually abused and raped by Father Baldwin from the age of six, when she was resident at a children's home run by nuns near Portsmouth in the 1970s.
Father Baldwin died in 2006.
'Deeply offensive'
A date for her abuse case to be heard has not yet been set.
Tracey Emmott, the woman's lawyer, said: "While it may be an interesting point of law because there is no formal employment relationship between priests and their bishop, this challenge to the High Court ruling is likely to be deeply offensive to victims of clerical abuse.
"Why should the church be treated any differently from normal employers who must face legal responsibility for wrongful actions of their employees?
"Sadly the church has a history of child abuse allegations against priests, which will not go away.
"It publicly expresses a commitment to take sexual abuse seriously and to eradicate it, yet is chooses to challenge a high profile High Court ruling that finds the church is legally responsible for it."
A judgement is not expected to be announced until the autumn.