Shipwreck in Solent is Flower of Ugie boat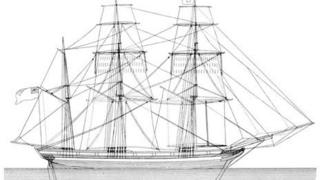 A mysterious shipwreck that lay in the Solent for 160 years has been identified by archaeologists as the 19th Century sailing barque the Flower of Ugie.
The wreck lies on a sand bed in the eastern Solent off the Hampshire coast and was first discovered by fishermen in 2003. It is only recently that archaeologists have been able to name the vessel.
Hampshire and Wight for Maritime Archaeology (HWTMA) identified the ship's remains as that of the Flower of Ugie which sank in 1852 following a great storm in the English Channel.
The ship's identity has been revealed to coincide with the release of a new book by HWTMA about the history of the wreck.
'Ferocious weather'
Dr Julian Whitewright, a maritime archaeologist at the group, said: "On the night of the 26th December 1852, while carrying coal from Sunderland to Cartagena in Spain, the Flower of Ugie ran into a storm off Portland.
"The ferocious weather that battered the whole of the south coast that night nearly capsized the ship and the crew were forced to cut down two masts to right it.
"In the early hours of the following day the Flower of Ugie sought shelter in the Solent, but it grounded on Horse Tail Sand and the crew were forced to abandon ship before the vessel broke apart later that day."
The vessel was not seen again until 2003 when a local fisherman snagged his nets on the wreck. It lay in two parts, 12 metres below the surface of the water.
Divers from HWTMA surveyed the site between 2004 and 2008 but archaeologists could not conclusively identify the vessel.
In 2009, the Marine Aggregate Levy Sustainability Fund, distributed by English Heritage, funded another two years of research.
Careful analysis
Archaeologists carefully analysed the hull, fastenings and sheathing and were able to date the ship's construction to the mid-19th Century.
Research then began on five ships known to have sunk in the east Solent at that time.
And key features found at the wreck, such as copper bolts and yellow industrial brass patented in 1832, led researchers to the Flower of Ugie.
Dr Whitewright said: "The ship was a three-masted sailing barque built in Sunderland in 1838.
"The Flower of Ugie provides a glimpse into the maritime trade links of the 19th Century, including the origins of the globalised seaborne connections that are familiar to us today.
"During its career it made regular voyages around Africa and on to India and the Far East.
"Later it was employed in the Mediterranean, the Baltic and across the Atlantic, carrying cargo to and from the United States and Canada."