Georgina Edmonds 'unlawfully killed' says inquest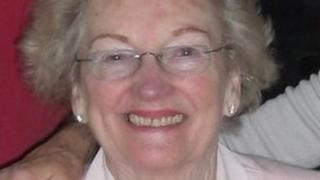 A woman found battered with a rolling pin at her Hampshire home was killed in a prolonged attack involving elements of torture, a coroner has said.
Georgina Edmonds, 77, was also stabbed a number of times in Brambridge, Eastleigh, in January 2008 and tortured for her debit card Pin number.
Matthew Hamlen, 33, of Bishopstoke, was found not guilty of her murder following a trial in January.
A verdict of unlawful killing was recorded at an inquest on Wednesday.
Winchester Coroner Grahame Short : "I find this was a brutal and protracted attack on a defenceless old lady.
"The family have chosen not to attend this inquest, a decision I fully respect. I know they have endured the long time this inquiry has taken and the subsequent trial.
"I hope that it although has not reached a final conclusion, they will now at least be able to grieve and have some closure."
Hampshire police said the case was still open.