Cocaine found hidden on ship in Portsmouth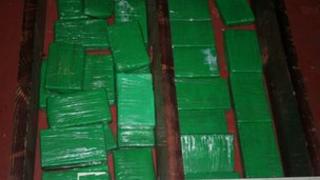 Cocaine with an estimated street value of £3.3m has been seized from a container ship docked in Portsmouth.
Packages of the drug were found on Hope Bay while it was docked at Flat House Quay, after it arrived from Colombia.
Border Force officers discovered the 33kg (73lb) haul concealed in a hold as containers of fruit were unloaded.
A further 32kg (70.5lb) of the drug, with a street value of £3.2m, was discovered when the vessel later arrived in Flushing, Holland.
The second haul was found after Dutch customs had been alerted by UK border officials.
Although the first haul was found on 30 April, the seizure can only now be reported following the conclusion of a joint exercise by the Border Force, Dutch customs and French customs investigations service, the DNRED.
No arrests have been made but inquiries are ongoing into the two seizures, the Border Force said.
Andy Lumb, from the Border Force, said: "The trade in illegal drugs and other banned substances is a world-wide problem and one that requires close partnership between law enforcement agencies across borders.
"As this detection shows, our officers are on constant alert, 24 hours a day, 365 days a year to keep drugs, other smuggled goods and illegal persons out of the UK."