Connors 'slavery' trial: Man felt 'scared' of traveller family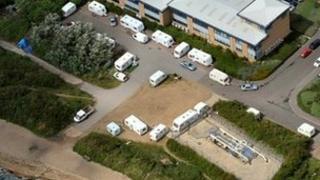 A man who claims he was forced to work for a group of travellers in Hampshire has told a court he felt "scared".
Christopher Groombridge, 32, told Southampton Crown Court he was recruited to work for the Connors family paving and tarmacing driveways.
He said he and four other men would get £20 for beer and tobacco between them at the end of each day at the Hamble site in Consign Way.
John, Jerry and William Connors all deny a number of charges.
Six day week
In a recorded DVD interview played to the court, Mr Groombridge said he was first approached by the travellers in Northampton.
He had just split up with his partner and had been staying with a friend, the court heard.
He said he had lived with the family for between four and five months before police raided the site in June 2011.
The court also heard the team of five men would work six days a week and sometimes on Sundays as well.
Mr Groombridge said: "I'm scared of the lot of them. I'm scared of them altogether.
"I'm glad they (the police) came and took me away because I could not take it no more."
Brothers John Connors, 30, from Stopley, Luton, Bedfordshire; Jerry Connors, 30, from Chertsey in Surrey; and their brother-in-law Billy Connors, 38, from Bulwell near Nottingham, are charged with four counts of holding men in servitude and four counts of acquiring a person to perform forced labour.
The trial continues.