Southampton police raids target drug-related violence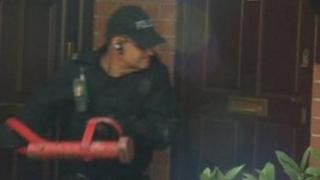 Nine properties in Southampton have been raided during a police operation to target drug-related violence.
More than 90 officers are involved in an ongoing co-ordinated effort, Operation Fortress, across the city.
The two-year operation has been launched by Hampshire Police in a bid to curb a rise in drug trafficking.
The stabbing of four men in the Cranbury Avenue area earlier this month and a shooting in Vanguard Road in February could be linked to the trend.
Three people were arrested on suspicion of possession of Class A and Class B drugs, and two other people were offered drug referral treatment.
Officers are working on the theory that London-based drug dealers are beginning to use Southampton as a base for criminal activity.
Det Insp Gary Towse, among the officers leading Operation Fortress, said: "We have seen a couple of incidents recently that we can say are linked to drug-related violence.
"Because of that, it's been identified by the force that we need to be ahead of the game and that any risk is dealt with.
"There's certainly been evidence that we have transient dealers from the London area coming down into Southampton."
Police hope to disrupt existing criminal networks through a combination of restricting drug supplies into Southampton and preventing drug misuse, through early intervention.