Jerry Connors cleared of servitude charges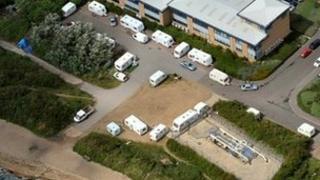 The case against a man accused of forcing vulnerable men to work for little or no pay has been dropped.
Jerry Connors, 30, from Surrey, was cleared of all charges after prosecutors at Southampton Crown Court offered no evidence against him.
The trial of John Connors, 30, and William Connors, 38, continues.
The number of charges they face has been reduced. Both men deny three counts of holding a person in servitude.
They are also accused of three alternative counts of requiring a person to perform forced or compulsory labour.
The court previously heard that police had raided an unauthorised travellers camp in Ensign Way, Hamble, Hampshire, in June 2011 where they found workers living in tents with no running water or toilet facilities.
John Connors, from Stopley, Luton, and his brother-in-law William Connors, 38, from Bulwell near Nottingham, deny all charges.
The trial continues.