Anger at early closure of Holbrook Leisure Centre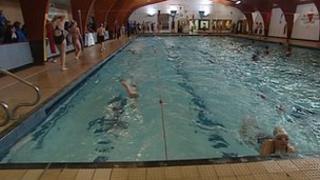 Users of a Hampshire leisure centre have criticised plans to close it earlier than scheduled.
Holbrook Leisure Centre in Gosport is being closed following weather damage to the roof.
Gosport Dolphins' swimming club said it would have a "significant impact" on the community.
The centre was originally to remain open until a new £7m leisure complex was completed in January 2013.
Conservative-run Gosport Borough Council confirmed the centre would close on 30 June.
It said the building had "deteriorated considerably" over the winter and recent stormy weather had further damaged the roof over the main pool.
Members of Gosport Dolphins say the pool is still useable.
Chairman Mark Foster said: "To shut a community facility will have a significant impact on what is a deprived area of Hampshire, it's wholly unacceptable.
"They should have considered the far reaching consequences of fitness, childhood obesity issues and it's now left to the community to deal with the fallout of not having safe swimming and safe fitness."
The council said full repairs would cost £30,000.
Workers at the existing centre, employed by current operators The Arena Group, have said they are to be made redundant.
The authority said it had assurances from the operators of the new facility, DC Leisure, that all the current staff would receive job interviews.
It also said it was working with Job Centre Plus to provide support for the staff.
Council leader Mark Hooks said: "It is regrettable we have not been able to keep Holbrook open for a little longer. It will cost a lot of money to repair for a short time and I just cannot justify that expenditure from public funds."
Demolition of the centre is due to start immediately after the closure.