Campaign to make D-Day gun boat seaworthy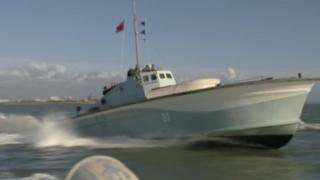 A campaign to make a World War II motor gun boat fully seaworthy has been launched in Portsmouth.
MGB 81, thought to the last remaining boat of its type, took part in the D-Day landings operation in 1944.
Portsmouth Naval Base Property Trust (PNBPT) aims to raise £70,000 to allow the craft to cross the English Channel to mark the 70th anniversary of D-day.
Broadcaster and historian Dan Snow has said a complete restoration would be an "incredible achievement".
The gun boat provided cover at sea for US troops landing on Omaha beach in Normandy at the start of the campaign to liberate Europe in 1944.
MGB 81 was saved by PNBPT in 2009, with the help of a £580,000 grant from the National Heritage Memorial Fund.
It has already had its weaponry and two working engines overhauled.
The planned refit would be completed by engineering apprentices at Babcock Marine at Devonport in Devon.
Mr Snow, who has given his support to the initiative, said: "It would also be a statement that even as the veterans grow old and pass away, the memory of what happened in those terrible years will never fade."