Royal British Legion stages Falklands parade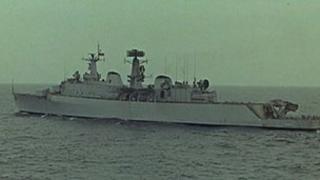 A parade and memorial service to mark the 30-year anniversary of the Falklands conflict have been held in Portsmouth.
The Royal British Legion hosted the remembrance service at the Falklands Memorial at the Square Tower.
Wreath laying was followed by a march to the cathedral.
Veterans from HMS Glamorgan, the navy destroyer hit by a missile on 12 June 1982 just two days before the Argentine surrender, led the parade.
Launched from the land, the missile attack on the battleship killed 14 crew members and seriously injured dozens.
The crew managed to mend the damaged decks at sea and sailed back to Portsmouth for repairs.