Tailbacks after M3 floods in Hampshire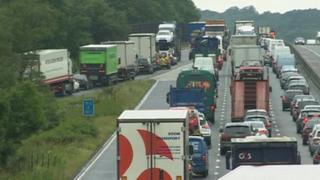 Drivers in Hampshire endured delays of up to two hours after part of the southbound M3 carriageway was closed because of flooding.
At one stage tailbacks on the motorway stretched for seven miles because of flood water blocking two lanes between Fleet services and junction five.
The Highways Agency said it expected traffic conditions to return to normal after 18:00 BST.
They are the latest problems caused by heavy rainfall across southern England.
Satnav directions
Odiham, near Basingstoke, recorded 55mm of rainfall between Sunday evening and Tuesday morning - close to its average June monthly total.
A woman had to be rescued from her car by firefighters when she became stuck in floodwater after following directions on her satnav.
Hampshire Fire and Rescue said the woman, from Nottinghamshire, accidentally drove into a ditch in Hook and the car was carried away.
She was stranded for 30 minutes before being rescued.
Station manager Ian Watmore said: "I urge all drivers to use a commonsense approach, especially when using a satnav, and to seek an alternative route if a road is under water."
Flood alerts remain in place on the Upper River Loddon and Upper River Wey.
Parts of Eastrop Park in Basingstoke were closed for safety reasons after the boating pond flooded.
On Monday, several motorists had to be rescued from vehicles that had become stuck in floodwater.
Fire crews rescued two people, one disabled and one elderly, from a partially submerged vehicle on Portchester Lane, Southwick.
Two more people had to be pulled from a car on Boarhunt Road.
A driver whose car was stuck in a ford on Purbrook Heath Road on Portsdown Hill, near Purbrook, was also rescued.
Several road closures were put in place and some minor roads were closed, including Hartley Lane near Hook at its junction with the A33.
Hampshire Constabulary said all main routes had reopened.