Stockbridge police officers relocate to fire station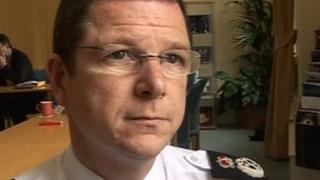 Police officers in a Hampshire town are now operating from its fire station as their old base is to be sold off.
The Neighbourhood Police Office at Stockbridge moved a few metres down the High Street to the town's fire station in a new venture to cut costs.
Officers moved into the fire station on 1 June but the new office was officially opened on Thursday.
Hampshire Constabulary has made cuts of £36m but bosses' say further reductions are needed.
Chief Constable Alex Marshall said: "We need to make significant savings but we are committed to maintaining the number of frontline officers as well as keeping a presence in the communities we serve.
"To achieve this we will be moving out of traditional police stations where appropriate during the next few years and share premises with partner agencies such as the fire service or local councils, or even local businesses."
Hampshire Fire and Rescue Service Chief Officer John Bonney said: "I hope this will be the first of many as we are already exploring a number of other sites where we can share premises and costs."