Closing time for owners of Britain's 'rudest shop'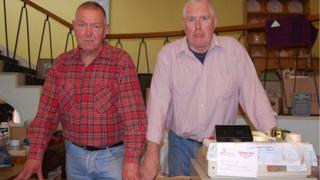 Two abrasive shopkeepers, labelled the rudest in Britain, close for business for the last time this weekend.
Punters will be queuing up in Lymington, Hampshire, for one last chance to be insulted by Terry Palfrey and Geoff Kemp, who scoff at the notion of "the customer is always right".
The business partners, who have run Palfrey & Kemp Fords homeware shop in St Thomas Street since 1996, have never been shy in dishing out insults to problem customers.
If you stir around the towels, jump the queue or open up a display bag at their homewares store, expect to be given a dressing down and marched off the premises for a lack of retail etiquette.
Even the likes of John Cleese, Jasper Carrott and Jilly Cooper have failed to escape their short shrift.
'Called him stupid'
Mr Palfrey and Mr Kemp's notorious short tempers were fused when a visit from a cold-calling salesman was coupled with an exchange of words between a customer and a member of staff.
Mr Kemp said: "One of our main linen suppliers had come in one day, without an appointment, and that had already rubbed us up the wrong way.
"As I was about to send him packing, he overheard this conversation in the shop which developed into a bit of a fracas.
"One of Lymington's finest, rather snooty ladies was being rude to one of our members of staff.
"Whatever else we will tolerate, we won't tolerate people being rude to staff. She called him 'stupid', so we asked her to leave immediately.
"That's when our sales rep decided to label us the rudest shopkeepers he'd ever met and the tag has just stuck with us really."
Mr Palfrey added: "We say to customers who cause disruption, 'you wouldn't do it at home, so don't do it here'.
"If people don't fit in and play by the rules, we tell them to go and don't come back.
"If there's one thing I can't stand, it's people coming in here and stirring around my towels and messing up my sheets.
"I had a round of applause on one occasion from other customers when I threw a person out for moving my towels."
But despite their prickly personas, customers keep on coming back and enjoy the light-hearted banter.
Lymington resident Thelma Mapes, 66, is a regular visitor.
She said: "I've been coming here ever since they took over and they accuse me of always coming in at three minutes to closing time just to annoy them.
"They've got a reputation for being a bit moody, but overall they are just so helpful and polite, exactly what you want from your local shopkeeper.
"You build up a great rapport with them and it's just going to be such a shame when they've gone."
New era
The shop, a retail premises in the town for 172 years, will be turned into a Wetherspoon's pub.
"We decided about six years ago that we couldn't carry on with the shop, not financially, just physically," said Mr Palfrey.
"We tried and tried to get someone to rent it, but couldn't find any offers.
"Sadly, high streets have changed so much in the last five or six years. So many people buy things online or go to the big out-of-town shopping centres.
"High streets like Lymington's are sadly just a thing of the past."
Mr Palfrey, 63, and Mr Kemp, 61, who live in nearby Boldre, plan to open a weekly market stall in the town and continue their passion of radio presenting.
Mr Palfrey added: "I don't care what people say, Wetherspoon's will be a big asset to the town.
"They'll spend around £2m on the building and create 40 local, badly-needed jobs."