NHS tooth bus to offer free dental check-ups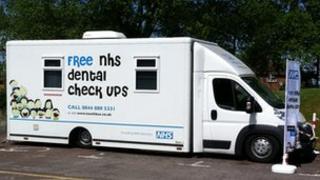 A "tooth bus" is to travel through Hampshire, Berkshire and Oxfordshire to raise awareness of NHS dentistry.
The mobile dentist will start in Portsmouth on Tuesday and offer free checks to people who have not seen an NHS dentist for more than two years.
NHS statistics show more than half the people across the region have not seen a dentist in this time.
Dr Paul Edmondson-Jones, director of public health, called it an "excellent step to better oral hygiene".
The bus will stop at shopping centres, supermarkets and SureStart centres.
Iosis Dental Clinic Ltd has been commissioned by the NHS to deliver the service.
Its director, Shapour Hariri, said: "If a patient is found to need treatment, they will be referred on to a local NHS dental practice so that they can receive ongoing dental care.
"Mobile health care of this sort is a fantastic way of reaching out to communities who may not have easy access to dental or health clinics and can also be a good way of connecting health care with hard to reach communities."
The bus will be in Hampshire until 19 August.
It moves on to Berkshire on 20 August and Oxfordshire on 9 November.