Shirley Towers inquest: Fatal fire started in curtain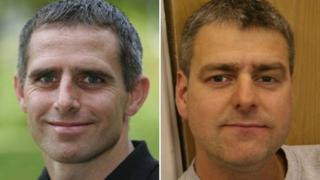 A resident has explained what started the blaze which killed two firefighters in a Southampton tower block.
Karl Hoffman told jurors at Southampton Coroners Court a curtain caught fire after he forgot he had rested the end on a lamp while vacuum cleaning the floor.
Firefighters Jim Shears and Alan Bannon were caught in the blaze at the 15-storey Shirley Towers on 6 April, 2010.
They were found three-quarters of an hour after becoming unaccounted for.
Mr Hoffman said he would regularly rest the curtain over the lamp in the corner of the lounge while he vacuumed his ninth-floor flat.
However, until a few days before the fire there was no bulb in the lamp.
On the day of the fire his wife turned the lamp on some time after he had cleaned.
About 10 minutes later he noticed the curtain was smouldering and smoking.
'Massive escalation'
Mr Hoffman said his wife and child left the flat while he tackled the fire with a cup of water, then with a bottle of soft drink.
He also took off his top and used it to beat the fire. When this "made no difference" he exited the flat too.
Mr Hoffman told the court he and his wife were outside the flat when a neighbour called the fire brigade.
Mr Bannon and Mr Shears, known by the call-sign Red Two, were one of two two-man teams to arrive at the property.
The other two firefighters, Keith Holland and Liam Ryan - Red One - were soon beaten back by the increasing strength of the fire and escaped under "considerable physical distress".
Coroner Keith Wiseman at Southampton Civic Centre told the court on Monday that Mr Bannon, 38, was pronounced dead at the scene and Mr Shears, 35, died later in Southampton General Hospital where attempts to revive him were unsuccessful.
Father-of-two Mr Shears was from Poole, Dorset, and had been a firefighter for seven years.
Mr Bannon, of Southampton, had been a fireman for eight-and-a-half years and had one child.
After separate investigations into the deaths, Hampshire Police and the Health and Safety Executive both said they would not launch prosecutions.
The inquest is expected to last four weeks.