Southampton man 'posted riot messages on Facebook'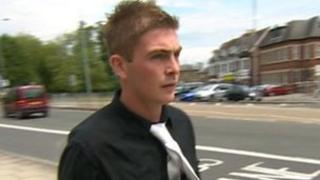 A mechanic used Facebook to try to incite disorder during the height of last summer's riots, a court has heard.
A jury was told Mitchell Stancombe, 21, from Totton, Southampton, wrote: "When are we going to start the Southampton riots then?" on his page in August.
He denies encouraging and assisting people to commit violent disorder under section 44 of the Serious Crime Act.
The jury at Southampton Crown Court retired to consider its verdict on Wednesday afternoon.
The jurors were later sent home for the day and will resume deliberations on Thursday.
The prosecution claimed at the time of writing the comments in August Mr Stancombe intended to start violence in the city.
Jurors were told when a friend responded with a post saying "hush your gums", he replied: "LOL - do a few coppers in."
Hampshire police had been monitoring social network sites including Facebook during the riots in an operation costing £500,000.
The court heard during an interview Mr Stancombe told officers he had only been joking and he did not intend to encourage anyone to riot.
But the prosecution allege Mr Stancombe was serious and the posts could have incited others even though no disorder took place in Southampton.
The case continues.