Dalai Lama draws crowds in unlikely visit to Aldershot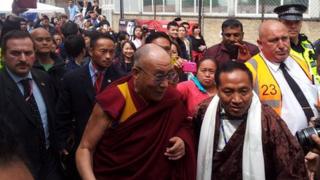 The small Hampshire military town of Aldershot is more used to welcoming home soldiers from conflict zones rather than spiritual leaders.
So when it was announced the Dalai Lama was paying an unlikely visit, it was a chance thousands did not want to miss.
Crowds began gathering early in the drizzle at the 7,000-capacity EBB Stadium, where the town's football team hosts League Two games, to catch a glimpse of the Tibetan Buddhist spiritual leader.
Addressing the crowd in broken English, the Dalai Lama spoke of mutual respect and religious harmony.
'A miracle'
As he spoke the heavens opened, but he still managed to do a lap of honour around the pitch as it eased.
He was mobbed like a rock star as he left, with people massing around his car as it drove away.
The large local Nepalese community ensured the visit was a colourful affair, with many in traditional dress.
A Nepalese man, who did not want to be named, described the visit to the town as "nothing short of a miracle".
Former Gurkha Captain Balkrishna Gurung, 47, from Folkestone, Kent, said he had realised a lifetime ambition by seeing the Dalai Lama.
'Just awesome'
He added: "I think it was a very good visit. A lot of the Nepalese community have enjoyed this."
Ann Grainger, 57, from Aldershot, said: "This has been good for the community because there are people here from many different faiths.
"I'm a Christian and I came to hear him because any religion that teaches peace and harmony is important."
Renu Rokka, 23, from Plumstead, south London, hired a bus along with 32 other people to attend the talk.
She said: "It was great to be here. We have never been so near to him.
"It was a dream come true."
Val Wilkie, 67, who travelled up from Teignmouth in Devon on Wednesday, said: "I've come to see him because of the history he has in world peace."
Dave Freestone, 47, from Portsmouth, who attended with Paula Slater, 48, from Aldershot, said it was an "auspicious occasion" and he was hoping to walk away with some "spiritual guidance".
"It's a once in a lifetime opportunity, I'm planning to go to India where we were hoping to catch him over there but this was guaranteed," he said.
"It's a strange place for the Dalai Lama to be, but in Aldershot where else could he be [than the stadium]? It's the only place."
The cost of hosting the event has been put at £60,000 to £70,000 so organisers, Buddhist Community Centre UK, said it had no choice but to charge for entry.
Thirty VIP seats were sold for £100 each, while a seat in the ground cost £30 and a standing ticket was £15.
Any profits made will be split between Buddhist Community Centre UK and the Dalai Lama's charities.
The Dalai Lama is nearing the end of an eight day visit to the UK during which he has given talks on non-violence, dialogue and universal responsibility.
He lives in exile in India, travelling the world to seek support for more rights for Tibetan people.