Shirley Towers inquest: Thermal imaging not used in fire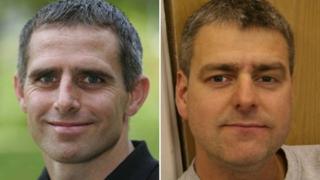 A firefighter has told an inquest if a thermal imaging camera had been used in a fire which killed two colleagues it might have been discovered sooner.
Keith Holland and his colleague Liam Ryan just managed to get out of Flat 72 in Southampton's Shirley Towers after a sudden massive rise in temperature.
Fellow firefighters Jim Shears and Alan Bannon did not and later died.
An inquest into their deaths heard Mr Ryan carried a thermal imaging camera around his neck but did not use it.
The two two-man teams were the first to enter the flat on the ninth floor of the 15-storey tower block on 6 April 2010.
Under cross-examination by Martin Seaward, representing the FBU and the Bannon and Shears families, Mr Ryan agreed that if he had used the camera after entering the flat they may have found the fire before continuing upstairs to the bedrooms.
'No visibility'
Mr Seaward said: "I'm not here to criticise you but would you accept that it was something you could have used?"
Mr Ryan replied: "Could have."
"And if you did, you could have picked up the fire - we can't be sure - but could have?" Mr Seward continued.
"Yes," Mr Ryan replied.
Explaining why he didn't use the camera he said: "We didn't feel any heat whatsoever at that point. So that's why it didn't register with me."
He said he mostly would use a thermal imaging camera for "casualty location within a fire".
Earlier Mr Holland told the inquest that when they entered there was "no visibility" due to thick black smoke but they could not see any flames so carried out a "right-hand search".
Mr Holland said: "I turned the torch on and I couldn't see the beam."
The pair - Red One - had to rely on touch and voices to find their way around.
'Chimney effect'
Having searched the first level and opened windows in the bedrooms, they bumped into Mr Shears and Mr Bannon, known as Red Two, on the stairs.
That was the last time Mr Holland saw them, he told the court.
At that point, there was a sudden, massive escalation in temperature inside the flat.
Coroner Keith Wiseman at Southampton Civic Centre said the narrow corridor and stairs where the two teams were created a "chimney effect" drawing the heat up.
Mr Ryan told the court how he was soon overcome by heat and "lost his mind".
His hands were badly burnt and he became disorientated and struggled to find his way out before becoming entangled in cables.
Mr Holland managed to free his colleague and get him out.
Father-of-two Mr Shears, 35, was from Poole, Dorset, and had been a firefighter for seven years.
Mr Bannon, 38, of Southampton, had been a fireman for eight-and-a-half years and had one child.
The inquest continues.