Portsmouth South MP Mike Hancock's heart-stopping call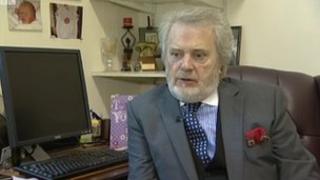 It's the last-minute call every discussion programme producer dreads: "I'm sorry, your guest isn't available after all."
After days of negotiations to obtain the perfect panel, plans are thrown into confusion. Every alternative guest realises they're being called at the last minute.
But the MP for Portsmouth South Mike Hancock had good reason for making that call last week. Open heart surgery may be a slightly less appealing option than being interviewed by me on the Sunday Politics, but it was clear which one was most necessary.
He had been looking peaky for a little while, and many people knew he had been suffering from angina. But even Mike refused to accept the seriousness of his situation at first.
Speaking from his bed in Portsmouth's Queen Alexandra Hospital, Mike told me he had discharged himself against doctors' orders after the first set of tests at the start of the week. He says he was keen to attend various appointments in his busy diary.
Recuperation time
But at 66, the Liberal Democrat who has been at odds with his own leadership and faced sensational newspaper headlines and complex legal inquiries into all areas of his personal life, now has to submit to the inevitable and take it easy for at least two months.
And when he gets the chance to take a bit of perspective on it all, will he want to keep on fighting for all those causes that he believes in, to the detriment of his own health?
In short, will he resign, or carry on to the next election?
We may get a clue when I talk to the man who has agreed to stand in for him on Sunday's programme. The leader of Portsmouth City Council, Gerald Vernon-Jackson, has long been regarded as the man lining up to step into Mike's shoes.
It may be too early for him to declare his candidacy. Or perhaps he might be worried about winding Mike up, persuading him to soldier on, because there's nothing Mike Hancock likes more than a good scrap.
And just as in politics he has fought for everything he disagreed with or believed in, you can be sure he will use all his energy to fight this illness.