Isle of Wight Festival: 'Organisers should have checked weather'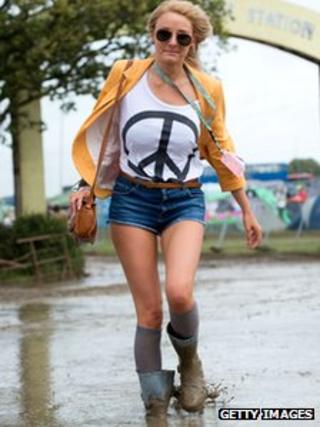 An MP is calling for a review of procedures after thousands of rock fans were delayed for hours heading to the Isle of Wight Festival.
The island's MP Andrew Turner said organisers should have realised heavy rain was set to cause major problems.
Cars were unable to park on waterlogged fields - leading to gridlock as about 55,000 people headed to the site.
A council official said contingency plans were in place but organisers were "unable to cope".
Stuart Love, environment director for Isle of Wight Council, said: "It was chaos but we've been working very hard with festival organisers, the police as well as bus and ferry operators and the steps we have taken are now working.
"The weather is the key factor in all of this."
'Not surprising'
High winds also caused problems which led to a delay in bands taking to the stage on Friday afternoon.
However, traffic and visitors are now moving freely to the site at Seaclose Park, Newport.
Tom Petty, Bruce Springsteen and Pearl Jam are the headline acts during the three-day festival
The problems came as various parts of the UK were braced for heavy rain and flooding. The Met Office has issued yellow warnings for various parts of England and Scotland and a more severe amber warning for the North West of England.
Met Office forecasters said the island would see very windy weather, with sunny spells and scattered blustery showers over the weekend.
Mr Turner said organisers should have foreseen the problems caused by the weather.
He said: "The problem appears to be one of not understanding that if you have rain on Sunday, and rain on other days, then it's not surprising that there's rain on Thursday.
"It's got to be looked at and in particular the fact that they have permission to take 90,000 people - that has to be reviewed."
The mud led to access problems on Thursday night leaving thousands unable to get into car parks.
Motorists queued for up to 10 hours to access the site.
Problems began on Thursday morning when the main car park had become waterlogged from heavy rain overnight.
Organisers were forced to open extra fields and bring in metal tracks so vehicles could be directed to overflow car parks. Many had to be towed because of the mud.
Festival organiser John Giddings said: "We did everything within our power but as soon as that 24-hour rain came down it became horrendous.
"I'm really very sorry, I can only apologise. It's going to be a great weekend, don't give up on us."
Mr Giddings said plans were also being put in place for people leaving on Sunday.
He said: "The police want an emergency plan from me as to how I am going to get people off on Sunday.
"I'll have tractors and people ready to take people off."
Earlier in the day, speaking on BBC Radio Solent, Mr Giddings had indicated he might be prepared to provide people with a refund because of the traffic issues.
But he later said there was no reason to give any money back as the festival was under way and people could get there easily.