Shirley Towers inquest: Firefighters found unconscious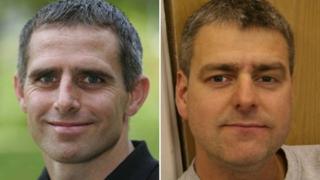 A firefighter has described the moment he found his two colleagues unconscious in a burning flat in Southampton.
Mark Hair was part of the ninth two-man team to go inside flat 72, Shirley Towers, on 6 April 2010.
He told an inquest he was tasked with finding Jim Shears and Alan Bannon after radio contact with them was lost.
Mr Hair, whose main job is as a firefighter at Southampton airport, was on call as a retained firefighter for Totton on the night the two men died.
He told the court that he and his partner were briefed to go into the flat wearing breathing apparatus, up two short flights of stairs, and find a hose that had been left by a previous team and search for "Red Two", the name given to the two-man team of Mr Shears and Mr Bannon.
He said: "It was evident the flat was still well alight. As we progressed up it was getting hotter and hotter and it was black. I could see about a foot in front of me, maybe two, obviously that was due to the smoke.
'Glimpsed hand'
"It was getting uncomfortable to breathe. It was like sticking your head in an oven and trying to breathe."
He described how he used a thermal imaging camera to scan the area at the top of the stairs. He said: "Looking to the left hand side of the landing I saw a hand. It was just a brief glimpse. I then felt with my hands and then got eyes-on confirmation."
He told the jury seeing the hand on the thermal imaging camera was "an image that will stay with me for the rest of my life".
Mr Hair told the inquest how he had to untangle the unconscious firefighter from cables that were like a "cat's cradle" that had fallen from the ceiling.
He and his partner then passed the firefighter down the stairs to some colleagues waiting a few steps below.
He said: "At that time for some reason the smoke appeared to dissipate. As I looked round to the right hand side, I saw a firefighter's leg."
He said the second man was also tangled in cables but was easier to get free. He then also passed him down to colleagues waiting below.
He told the inquest how he and his colleague also became tangled in cables, but managed to get themselves free and made their way out of the building.
Father-of-two Mr Shears, 35, was from Poole, Dorset, and had been a firefighter for seven years.
Mr Bannon, 38, of Southampton, had been a fireman for eight-and-a-half years and had one child.
The inquest continues.