Isle of Wight Festival parking tickets revoked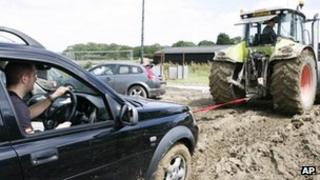 Scores of parking tickets issued during the Isle of Wight Festival are to be revoked following a mix-up by the island's police.
Hundreds of revellers were stranded in cars ahead of the event at Seaclose Park, Newport, on Thursday after rain left the main car park waterlogged.
Many parked on verges near the site where Hampshire Constabulary had told officers not to fine drivers.
The message was not relayed to all officers and 50 tickets were issued.
Isle of Wight Council has promised a review into the traffic chaos which preceded the three-day event, forcing some people to spend the night in their cars.
Sgt Dave Steele, of Hampshire Constabulary, removed some of the parking tickets from car windscreens in Fairlee Road.
He said the parking fine mix-up had been a result of a dual radio band system used by police during the festival.
'Lessons learned'
Operational reasons meant officers inside the festival ground were using a different frequency to those working outside so not all officers heard the instructions.
Sgt Steele said all but two of the tickets would be revoked. The remaining fines would stand because the cars were causing an obstruction.
He said: "We have learned some lessons about joining up key messages. We apologise for any inconvenience."
Problems began on Thursday morning when the main car park became waterlogged from heavy rain overnight.
Organisers were forced to open extra fields and bring in metal tracks so vehicles could be directed to overflow car parks.
Farmers with tractors and 4x4 owners were among those who helped tow cars out of the muddy fields.