HMS Diamond pays tribute to namesake ship sunk in WWII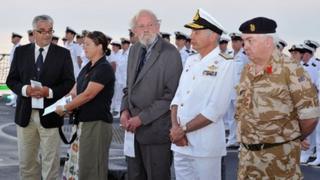 Sailors on board one of the Royal Navy's newest warships have made a sea pilgrimage to the spot where their namesake ship sank during World War II.
The crew of Portsmouth-based HMS Diamond stood in silence at dawn to mark the sinking of the old HMS Diamond 60 miles (97km) north of Crete.
The previous ship was attacked by German warplanes in 1941 with the loss of 148 lives.
Relatives of those who died in the attack also took part in the tribute.
The current HMS Diamond, a Type 45 destroyer, set sail on its six-month maiden deployment earlier this month after being commissioned into the fleet last year.
The wartime HMS Diamond was sunk as it attempted, along with HMS Wryneck, to pick up survivors from a Dutch troop ship, SS Slamat, which had come under attack.
But all three ships were destroyed by the Germans on 27 April 1941, with the loss of 983 lives.
Captain's son
Descendants from those lost on Slama joined the crew of Diamond as they paid their respects during a memorial service.
Commander Ian Clarke said: "I felt, as soon as we knew we were coming close to the site, that it was something we had to do, to pay our respects.
"I'm so glad we have been able to do this with our Dutch and New Zealand friends on board and I hope it has given them some closure on such a tragedy."
Dutchman Frans Luidinga is the 77-year-old son of the SS Slamat's captain Tjalling Luidinga.
He said: "This is very emotional for us because it is the first time any family has come to the places where our relatives died.
"We owe Cdr Clarke a great deal for inviting us to pay our respects."
Ms Kate Saxton, 40, from Oamaru in New Zealand, is the granddaughter of a Kiwi surgeon who was one of the Slamat's victims.
She said: "It's not something that is easy to put into words, being here.
"It means so much to be able to see the environment they were in and to be able to pay our respects."