Specialist Gurkha help centre opens in Ashford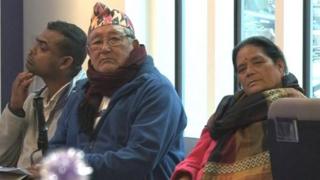 A specialist help centre for Gurkha soldiers has opened in Kent.
Experts and volunteers at Ashford Gateway will help former Gurkhas and their families access accommodation, food and benefits.
The centre is being run by the Soldiers, Sailors, Airmen and Families Association (SSAFA) with help from Salisbury's Gurkha Welfare Centre.
Case workers, including translators, will be on hand at Ashford Gateway between 09:00 and 13:00 on Tuesdays.
Col Jo Gunnell, of the Kent SSAFA branch said: "It is a memorable day for countless former British Army Gurkha soldiers who fought for this country and now want to retire here.
"No longer need they feel helpless and alone, pitched against seemingly insurmountable problems and national and local government bureaucracy."
He said the Kent Branch had taken the initiative in forming its own specialist Gurkha unit and with the purpose-built centre "any Gurkha finding himself in Kent, can come and have his problems sorted by caring caseworkers and experts".
"We are incredibly proud of what Kent has achieved for these Nepalese soldiers," added Col Gunnell.
The SSAFA also announced it would be hosting a similar facility for former and serving servicemen and women from the three armed forces at Ashford Gateway on Fridays.
The Gurkhas have been based in Folkestone, Kent, since 1997.
In 2009 the government allowed Gurkha soldiers who had retired before 1997 to settle in the UK following a high-profile campaign led by actress Joanna Lumley.
Many moved to Kent because of its links to the military and its established Nepalese community.