Shirley Towers flat fire 'left residents in fear'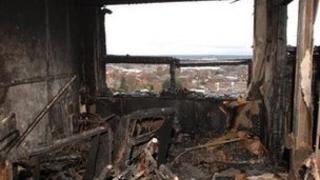 More than two years after a fatal fire at a Southampton tower block, the events of the night are still fresh in the memories of residents caught up in the tragedy.
Firefighters Jim Shears and Alan Bannon were overcome by excessive heat inside flat 72 on the ninth floor of Shirley Towers on 6 April 2010.
Mr Bannon, 38, of Southampton, was pronounced dead at the scene and Mr Shears, 35, from Poole in Dorset, died later in hospital.
An inquest into their deaths has returned a verdict of death by misadventure, with the coroner saying he will make written recommendations on safety improvements.
Since the blaze, some have moved out of the 15-storey block, too scared to return, while others speak of their continued worry over the possibility of another fire.
Karen Corris and her children live on the floor above the flat where the blaze began.
Her home quickly became filled with thick black smoke but she managed to move her children to the safety of another flat via a fire escape and they stayed there most of the night.
'Kids traumatised'
She said: "I don't think anyone will ever forget it.
"Quite a few people had to move out and they were offered other flats in the building and they just said no.
"There was one lady on my landing who had a little girl about eight or nine and she refused to come back in the building. She was so terrified that she just could not stay here, so the council had to rehouse her somewhere else.
"I think the kids suffered quite a lot - they were quite traumatised.
"Recently, about a month ago, we had five fire engines outside because someone had rung and said there was a big fire and there was a big crowd outside and everyone was panicking.
"It was just a small fire that was dealt with really quickly but everyone worries."
She said the immediate aftermath of the fatal fire in 2010 had a big impact on the residents.
"When we found out that two [firefighters] had died, everyone was really shocked by that," she said.
"We tried to see if we could do anything - something to commemorate the fact that they lost their lives saving ours.
"We had a service outside about week after it happened."
'Pretty devastating'
Brian Pond described looking upwards out of his window and seeing flames billowing out of the building above him and pieces of glass and plastic showering down.
He said: "At the bottom I saw what looked like two firefighters receiving CPR before they were taken away in an ambulance.
"There was a knock at the door and there were two firefighters there, one with burnt hands, asking for a bowl of water so I brought them in and let them use the sink.
"He [the injured firefighter] looked very shocked and scared. Two more colleagues came in, filled up a bowl of water and they all left. I think he went off in an ambulance."
Kristy Pinckney was pregnant and had been celebrating her daughter's first birthday on the night of the blaze. She saw paramedics carrying one of the firefighters out of the building.
She said: "It was pretty devastating. I didn't realise it was going to be that serious.
"There has already been a fire in this block and it's meant to be contained so something went wrong."
It was three months before Ms Pinkney was allowed back into her flat and several weeks before she managed to clean all the black soot that had covered everything.
She said: "A lot of people do not want to come back - they're too scared to come back. I think there's probably still a fear now.
"If there is another fire, how long is it going to take next time?"