Biomass plant referendum planned in Southampton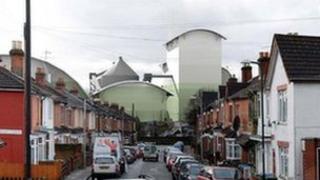 Residents of two Southampton wards are to get a vote on whether they support plans for a proposed biomass power station in the city's Western Docks.
The referendum, for people in the Freemantle and Millbrook areas, will be held in November alongside elections for police commissioners.
The result will not be legally binding but will "feed into the debate" and help democracy, said the council.
A planning application on Helius Energy's £300m plant is due in autumn.
Councillor Richard Williams, leader of Labour-run Southampton City Council, said: "We know there's been serious concern [about the biomass plant] and nobody has had the chance to have their personal say."
He said the £5,000 cost of the vote was "an absolute bargain" if it meant more people would engage in democracy.
'Need cleaner energy'
Mr Williams said if the vote attracted a good turnout it could lead to further referendums about important issues for the city.
In April, protest group No Southampton Biomass handed 150 objection letters and a 3,602-signature petition to Helius Energy and the city council.
Stephen Galton, from the group, said: "This affects a much wider area than the people [who live nearby]. We know as a country we need cleaner energy and this biomass plant doesn't form part of that when you look at the figures."
Helius Energy has already moved the intended site of the 100-megawatt wood-fired plant 125 metres further away from homes and amended its design, in response to opposition to the scheme.
A public consultation period ends in August before the plans go before the Planning Inspectorate.