Petersfield developer denies offering residents 'bribes'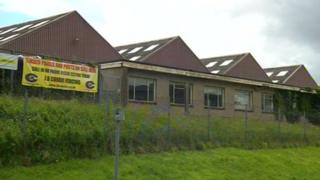 A developer has denied offering bribes to residents to persuade them to support a proposed planning application in a Hampshire town.
Residents claimed Morbaine sent letters offering them £20,000 each if they agreed not to object to plans to build a supermarket in Petersfield.
The neighbours said they also had to agree to keep quiet about the deal if they accepted the money.
The firm said it was "entirely a misunderstanding".
Neighbours Anna Glanville-Hearson and Jill Samuelson said they were shocked when they first discovered the developer's plans to build a supermarket next to their homes in Frenchmans Road, on land currently occupied by a fencing supply company.
They are worried about noise pollution from a possible service area opposite their front doors.
When they recently received an offer of £20,000 each to let the developer rebuild their boundary wall, they said it appeared to be "a bribe".
The offer also contained a clause agreeing the residents would "generally support the developer's proposals for development of the site and provide a letter of support to the local planning authority if requested to do so by the developer".
'Responsible neighbour'
Ms Glanville-Hearson said she might have understood if the developer had offered compensation for disruption and devaluation of their property values.
She said: "We might have been open to that.
"It would have had to be with no strings attached but this is something quite different.
"It's a requirement, a legal requirement, for us to write letters, support their application, keep silent and for that we get £20,000."
Ms Samuelson agreed with her neighbour, saying: "I think it's a terrible thing to ask people to do.
"I don't like supermarkets, and I don't want one next door, and I don't want one six metres from my fence line.
"Then to have to write a letter saying I did I found that very difficult."
So far no planning application has been submitted and it is not known which supermarket chain may be involved, but Morbaine said its clients included Morrisons, Tesco and Sainsbury's.
A spokesman for Morbaine said the firm was merely trying to negotiate an agreement about a boundary wall, which was "a perfectly normal thing to do".
He said: "Unfortunately, although Morbaine's motives were entirely honourable and they are just trying to be a responsible neighbour, clearly some of the residents thought it was a bribe.
"It wasn't meant to be a bribe at all."
They added: "It was entirely a misunderstanding on their [the residents'] part. It's a non-issue."