Southampton City Council to consult over loss-making pool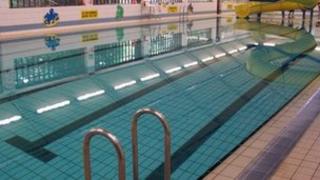 A Southampton swimming pool threatened with closure could be saved if alternative funding can be found.
Oaklands Swimming Pool in Lordshill has been earmarked to close following council budget cuts.
The pool, which was shut four weeks ago and needs £500,000 worth of repairs, receives an annual subsidy of £235,000 from Southampton City Council.
In a cabinet meeting, councillors decided to put the future of the pool out for consultation for two months.
Warwick Payne, the council's cabinet member for leisure, said: "The city council is proposing to withdraw its subsidy to the pool to keep it running.
"If that money is withdrawn then you'd end up with a situation whereby either someone else would have to step in or the pool would close down."
The 30-year-old pool forms part of a school site which is closing down at the end of term, with the whole site earmarked for development.
'Be realistic'
Former cabinet member Keith Morrell, one of three labour councillors who split with the party over the issue, said: "I don't believe this is the best decision, I think it was made hurriedly. It is a bad decision."
Mr Payne said: "Over the next few weeks we will be going out to the community and asking if there is any possible way of keeping the pool running.
"I think we have to be realistic that that may not come to pass."
The funding withdrawl from the pool forms part of the council's plan to reduce its budget by £833,000 in the current financial year.
A final decision is due to be made in September.