Portsmouth's Historic Dockyard to host Shakespeare play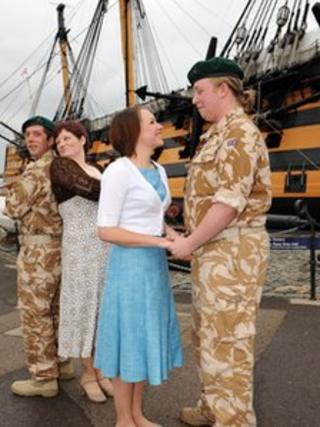 Portsmouth's Historic Dockyard is due to host what is believed to be its first ever outdoor theatre production.
Shakespeare's Much Ado About Nothing will be performed in the Starboard Arena of HMS Victory, with Lord Nelson's flagship in the backdrop.
The Royal Navy Theatre Association's (RNTA) performance will see three Portsmouth theatre clubs join forces.
The production is directed by Lt Cdr Philippa Sargent, a member of HMS Collingwood's Theatre Company.
It will run for the next four nights until Saturday.
'Ambitious project'
Rear Adm David Steel, president of the RNTA, said they had taken on "an ambitious project".
"I have seen a number of the club's individual productions over the last year and there are some talented actors involved.
"The fact that three establishments are collaborating to put this production on meets our aims perfectly to enhance the confidence, team-working and leadership qualities of service and civilian personnel through the medium of drama."
Members of the RNTA attended a workshop run by the Royal Shakespeare Company (RSC) and the Nuffield Theatre, Southampton, at HMS Collingwood, Fareham, in March.
Ian Wainwright, producer of Royal Shakespeare Company Open Stages, said "Everyone at the RSC is really excited about the production being staged by the Royal Navy. A lot of us had no idea that the Royal Navy even had an amateur theatre group."