Pupils lead Royal Navy's £4.5m history exhibition in Hampshire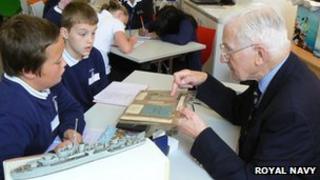 A group of Hampshire school children is leading a £4.5m exhibition which will tell the story of the Royal Navy since 1900.
Twenty Year 5 pupils from Stamshaw Junior School, Portsmouth, are carrying out work for the National Museum of the Royal Navy's Heritage Lottery Project.
The project, which includes interviews with eight veterans, is set to be completed at the museum by 2014.
It will mark the 100th anniversary of World War I.
The work by the children, aged nine and 10, has been given a £1.4m grant from the Heritage Lottery Fund.
It includes accounts of war from a World War II Wren to the current First Lieutenant onboard HMS Victory.