Condor Ferries Ukrainian workers protest in Portsmouth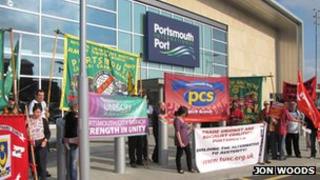 A protest has been held at Portsmouth Ferry Port over claims Condor Ferries pays below minimum wage to its foreign employees.
The RMT union said the Channel Island ferry operator was using legal loopholes to pay Ukranian crew just £2.35 an hour.
Condor admitted some of its crew were paid that amount but said they earned four times the average wage in Ukraine.
About 90% of its crew are recruited within the European Union.
Approximately 40 union members held a two-hour protest on Saturday morning with representatives from the RMT, Portsmouth City Unison and Portsmouth Trades Council among them.
'Competitive wages'
Condor Ferries managing director Ken Soar said he respected the right of members to protest.
He added: "Condor Ferries is a diligent and concerned employer and we take care that all our employees are trained to the highest standards, work in safe conditions and receive competitive wages.
"A small minority of crew who live aboard our conventional freight ferries are recruited from Ukraine.
"The rate of pay referred to only applies to the entry level crew members and we are concerned that the situation is being distorted for political reasons.
"All of our Ukrainian crew benefit from free transport to and from Ukraine, comprehensive medical and dental cover, while all food and lodging during their 12-week stay on board is provided without deductions."
Jon Woods, from Portsmouth Trades Council, said: "Condor should pay industry standards for the UK.
"It's not an acceptable argument that workers supposedly get paid more than they would back in Ukraine.
"Unions will continue to raise awareness of this issue and further action is planned to continue campaigning on behalf of the affected workforce."