Tallship Tenacious' crew member airlifted to hospital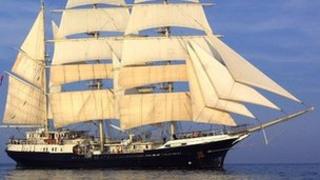 A crew member has been airlifted to hospital after suffering a suspected head injury on a tallship.
The woman was winched off Southampton-based Tenacious by the Portland Coastguard helicopter and airlifted to hospital in Plymouth.
A coastguard statement said the rescue was a "challenging winch transfer in heavy swell conditions".
Charity the Jubilee Sailing Trust (JST), which owns the vessel, said she has since been released from hospital.
The rescue co-ordination centre at RAF Kinloss dispatched a coastguard helicopter from Portland in Dorset just after 20:00 BST to the ship 20 nautical miles (37 km) south-east of the Devon coast.
The ship which is equipped to enable people with various physical disabilities to sail had set off from Southampton to France on Monday.
The 65m (213ft) square-rigged tallship is one of two based in the city, the other, Lord Nelson, is also owned by the JST.