Southampton Airport chewing gum recycling 'world first'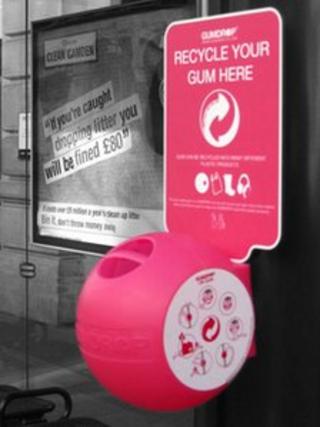 Southampton Airport claims to have become the first airport in the world to feature chewing gum recycling bins.
Twenty-five pink Gumdrop baubles have appeared to try to rid the place of gum "splattered on the floor", said airport managing director Dave Lees.
Inventor Anna Bullus, 27, came up with the idea of recycling chewing gum while studying at university.
She said: "It ruins all of our landscape and it's a valuable material that's just going into landfill."
The entrepreneur, from West Sussex, said: "I was walking back from uni when I decided to pick up all the litter and Google each piece, just to see what people were doing with it.
"And inside a crisp packet there was some gum."
The bins are regularly emptied with the gum given a "second life" through a new recycling process.
The material can then be used to produce products such as car tyres, toys and mobile phone covers.
Ear pressure
Ms Bullus said according to Keep Britain Tidy and statistics from Defra, nine out of 10 paving stones had gum stuck to them.
She claims about £150m of taxpayers' money is spent each year on cleaning gum off the streets.
After a year of tests around the country, the Gumdrop bins were launched last August.
Some 1,000 are now in circulation at various private companies, schools and railway stations.
Southampton Airport, which has 2m travellers passing through each year, hopes the bins will save an estimated £3,000 in specialist cleaning costs each year.
Mr Lees said the airport had a lot of gum litter as travellers use chewing gum to "equalise pressure in their ears", and that men appeared to be the main culprits as one of the key litter areas was in the "gents' urinals".