Charles Dickens' relatives follow Nickleby's footsteps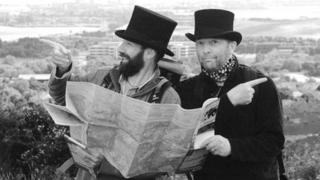 Two great great grandsons of Charles Dickens have set off on a walk following in the footsteps of two of the author's characters.
Ian Charles Dickens and brother Gerald are walking from London to Portsmouth, like Nicholas and Smike did in The Life and Adventures of Nicholas Nickleby.
They hope the 75-mile (120km) walk will raise £10,000 for charity.
Ian, of Portsmouth, and Gerald, of Abingdon in Oxfordshire, hope to complete the walk in five days.
They set off from Golden Square in London and plan to do about 15 miles (24km) a day, before arriving in Portsmouth on Thursday to coincide with the annual Dickens Fellowship Conference.
The novel they are following centres on the life and adventures of Nicholas Nickleby, a young man who must support his mother and sister after the death of his father.
He and another boy, Smike, set off on a walk to the south coast city, with the intention of becoming sailors.
It is the only one of the Victorian author's works to feature his birthplace.
Charles Dickens was born in Portsmouth on 7 February 1812 and spent the first three years of his life there before moving to London and later Kent.
The house in Mile End Terrace, where his family paid an annual rent of £35, has been a museum since 1904.
'Grisly murder'
Ian, a marketing consultant, said: "Charles Dickens left when he was very young but he came back to give readings at the St George's Hall and to research Nicholas Nickleby."
Gerald, an actor, will perform readings from a number of Dickens' works along the route.
Accompanied by other members of the Dickens family for the first five miles, their route will take them west out of London, through Kingston, Guildford and Godalming, Surrey.
They will then continue towards the South Downs via the Devil's Punchbowl at Hindhead, Petersfield and Rowlands Castle.
Ian said: "In the novel Nicholas Nickleby spots a stone that marks a 'grisly murder' of a sailor at Devil's Punchbowl. This stone is still there, near to the Hindhead traffic lights."
The brothers are raising funds for the National Literacy Trust and Charles Dickens Statue Fund.
On their arrival in Portsmouth, they will pass the Charles Dickens Birthplace Museum, through Old Portsmouth to Guildhall Square and the spot where the UK's first Dickens statue is set to be unveiled in 2013.
It had been planned for his bi-centennial year, but is delayed as £50,000 must still be raised to fund the £120,000 statue.