'Wrong' postbox painted gold in honour of Olympian Peter Charles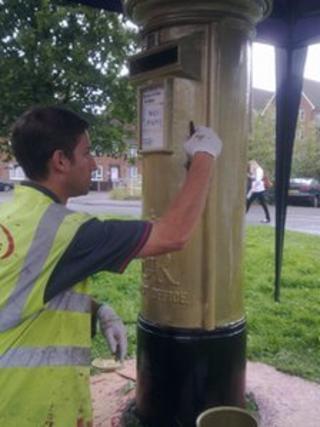 Royal Mail has painted the "wrong" postbox gold in honour of Hampshire Olympian Peter Charles.
The postbox in Alton was painted after Charles won a gold medal in the Olympic equestrian event along with Scott Brash, Nick Skelton and Ben Maher.
Residents in Alton described the gold postbox as "excellent" but pointed out Charles is from the village of Bentworth, about four miles away.
Royal Mail said they may now paint the postbox in Bentworth gold as well.
Royal Mail pointed out that the Team GB website states Charles is from Alton.
The error comes just a day after a postbox in Harlow, Essex, was painted gold in honour of Olympic champion Laura Trott, who later tweeted that despite being born in the town, her home town is in fact Cheshunt, in Hertfordshire.
People in Alton said it was "excellent" and "impressive" and that they were "proud".
A Royal Mail spokeswoman said: "What we're trying to achieve is (paint the postbox in) the town where they identify with the most. We understand that to be Alton but if it is Bentworth then I'm sure we'll be very happy to go over to Bentworth and paint another postbox gold."
The postbox in Alton will remain gold for a "few months", Royal Mail said.
Charles, 52, was part of Team GB who beat the Netherlands on Monday in a dramatic jump-off.
Royal Mail has also released stamps commemorating the team's win.