Southampton council pay cuts will be reversed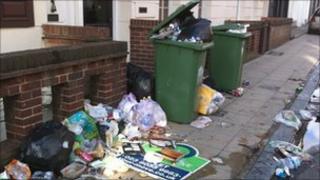 Unions have agreed to end legal action against Southampton City Council after it agreed to reverse pay cuts imposed by a previous administration.
The Labour-led council agreed to a phased reversal of the pay cuts introduced in 2011 while the authority was led by the Conservatives.
Trade unions Unison and Unite agreed to suspend legal and industrial action against the council after negotiations.
Union members will vote in September on whether to accept the deal.
In February 2011, councillors finalised budget cuts of £25m and said all workers earning more than £17,500, which is 65% of staff, would have their pay cut by reducing working hours.
It later revised the plans so those earning more than £22,000 would lose up to 5% of their pay.
Thousands of staff, including refuse collectors and social care staff, went on strike the following month, beginning months of industrial action which continued into the autumn.
Rotting bins
Unions also initiated legal proceedings against the council, which they claimed was acting illegally by failing to consult both on the new contracts and on redundancies.
The council's lead negotiator, Councillor Simon Letts, said: "On behalf of Southampton City Council, I welcome the decision to suspend the legal action as a vital first step to settling an industrial dispute which left a million uncollected bin bags rotting on the streets of our city.
"This is a vital first step in rebuilding a positive relationship with our staff and improving the quality of services we deliver to our citizens."
Unison branch secretary Mike Tucker said: "We welcome the progress that has been made in the negotiations with the council and believe that the majority of our members will vote to accept the council's proposal."
Mark Wood of Unite said: "We stated all along that this dispute will only be resolved by negotiation and agreement.
"We are very pleased with the way negotiations have been conducted since May and are hopeful of a positive outcome in the forthcoming member consultation and ballot."
Labour won control of the council in May 2012.