Police marine unit educates mariners on sea safety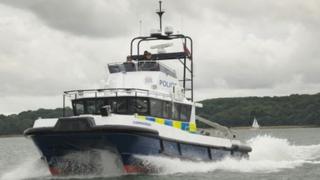 A police marine unit has been educating mariners on safety guidance at sea during the Cowes Week sailing regatta.
The joint operation between Hampshire police and the Maritime Coastguard Agency (MCA) aims to educate sailors.
Sgt Tony Birr said: "We've talked to leisure users who have not been wearing a life jacket or a kill-cord, which cuts the engine if they fall overboard.
"We've also spoken to commercial users who can be prosecuted by the MCA if they persistently breach regulations."
Mr Birr, who heads up the marine unit, said about a dozen leisure users off the Isle of Wight had been spoken to about safety at sea so far this week.
The final day of racing at Cowes Week will be on Saturday.