Isle of Wight farmers want more island milk sold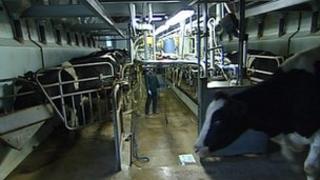 Isle of Wight dairy farmers have begun a campaign to have more milk processed and sold on the island.
They claim about 80% of the island's milk is transported to the mainland, only for processed milk to be brought back to be sold in supermarkets.
The farmers insist there is spare processing capacity on the island which could be used to supply local demand.
Several supermarkets have said they would be interesting in discussing the issues with island farmers.
The number of dairy herds on the island has fallen to 15, from more than 300 in the 1960s.
The remaining farmers have started an 'I Love Isle of Wight Milk' campaign and are organising a petition to urge supermarkets to sell more locally-sourced milk.
They say 20m litres of milk year is produced on the Isle of Wight, while the island consumes 30m litres.
Chairman of the Island Dairy Farmers Group Justin Birch, who farms 300 dairy cattle near Shalfleet, insists milk could be produced at a price consumers would be willing to pay.
"The demand is clearly there and we can produce the milk. There's no reason why we can't do it.
"I like to think the 15 of us dairy farms that are left can expand and produce more milk."
Better deal
A Morrisons spokesman said it would be "interested in speaking to the Isle of Wight farmers" about sourcing milk locally.
Waitrose said: "We're currently looking at ways to bring Isle of Wight milk into our branches on the island."
The Co-op said it would be "happy to have a dialogue" with Isle of Wight farmers while Tesco said it already offered milk from its Sustainable Dairy Group of 720 farmers who get a price above production cost per litre.
Farmers around the UK have been campaigning to get a better deal on the price they are paid for milk.