Portsmouth Harbour body named as rescuer Marco Araujo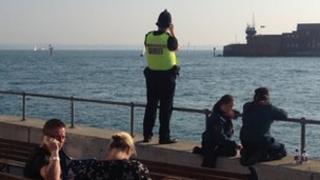 The body of a man found outside Portsmouth Harbour has been formally identified as missing man Marco Araujo.
Mr Araujo, 33, from Portsmouth, was last seen in the water near Tower Street on 26 July, when he helped rescue two young girls from the sea.
Hampshire Police said his body, which was found two weeks ago, had been identified using his fingerprints.
Mr Araujo's relatives have been informed, and a file is being prepared by police for the coroner.
Mr Araujo, of Grafton Street, was one of two men who entered the water near the Portsmouth Harbour entrance when the two girls, aged four and 10, got into difficulties.
The girls and the other man made it safely back on to dry land.
Police, coastguard, Royal Navy and lifeboat personnel carried out an intensive search for Mr Araujo following the incident.
Mr Araujo's partner Tracey Hall described him as a "hero" and said she had lost her "soulmate".