Delia Hughes murder 'cruel and pointless'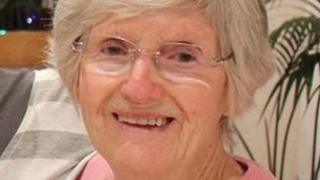 The family of a great-grandmother who was beaten to death in her Southampton home have branded the killing "cruel and pointless".
Delia Hughes, 85, was found by a relative at her home in Atlantic Close on Saturday night.
Speaking on behalf of the family, her son-in-law said they were "all absolutely devastated".
A woman, 29, and a 37-year-old man from the city are being questioned on suspicion of murder.
Mrs Hughes died from several blunt force blows to the head, police said.
'Idolised her'
Speaking on behalf of the family, Delia Hughes's son-in-law, who police said did not want to be named, described her as "an elderly and defenceless woman".
He said: "Delia was the kindest person anyone could wish to meet and she never had cross words with anyone; in fact, Delia would do anything for anyone and had a heart of gold."
Mrs Hughes was originally from Blackpool but had lived in Southampton for the past 17 years.
The retired Littlewoods supervisor, who had one daughter, two grandsons and three great-grandchildren, lived alone at her flat in the affluent Ocean Village development.
Her son-in-law added: "Delia was fit and active for her age and for someone like her to be so cruelly taken from us in this way is too much and we want justice as soon as we can.
"Delia's great-grandchildren idolised her and no matter how old she was, she did everything for them.
"They were proud to have a great grandmother whom they called 'Nana'.
"We are all going to miss her greatly."