Southampton council pay cuts reversal deal unveiled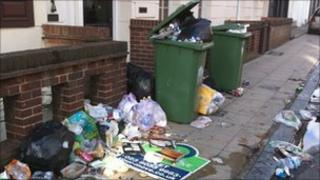 Reversals in pay cuts for Southampton City Council workers would be phased in three stages over the next 20 months if staff agree to them.
On Thursday, the Labour-led council said it agreed to the reversal of cuts, introduced in 2011 while the authority was Conservative-controlled.
The deal, which will backdate pay for staff with lower incomes, will add £2.3m to the council's wage bill.
Union members will vote in September on whether to accept the deal.
It also pledges to honour nationally-agreed rises locally, from April 2013.
The lowest paid staff will be the first to have their pay restored from 1 November.
Staff earning more than £35,000 will receive no immediate increase in pay and an employee suggestion scheme has been proposed to help find a further £500,000 in savings that will enable the authority to restore the pay of the top earners.
Revised plans
In February 2011, councillors finalised budget cuts of £25m and said all workers earning more than £17,500, which is 65% of staff, would have their pay cut through reduced working hours.
It later revised the plans so those earning more than £22,000 would lose up to 5% of their pay.
Thousands of staff, including refuse collectors and social care staff, went on strike the following month, beginning months of industrial action which continued into the autumn.
Unions also initiated legal proceedings against the council, which they claimed was acting illegally by failing to consult both on the new contracts and on redundancies.
The legal action was suspended following Thursday's announcement.
Labour won control of the council in May 2012.