'Bullied' Royal Navy sailor shot himself, inquest hears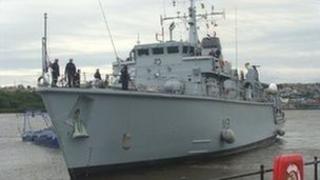 A sailor shot himself in the head on board a Royal Navy warship after "bullying" banter from officers, an inquest has heard.
Engineering technician Samuel Hatton, 20, killed himself with a rifle on HMS Cattistock in Portsmouth, in September 2010, the inquest in the city was told.
Mr Hatton had been teased about a friend who had also killed himself on board a naval ship.
Some senior colleagues asked him: "Not shot yourself yet?," the inquest heard.
'I am sorry'
Mr Hatton, who was known as "Ricky", had gone into a room in the minehunter containing rifles as part of cleaning duties.
Det Sgt Gary Cable, from Hampshire Police, said Mr Hatton, who was from Southampton, did not have the right to access ammunition, but had been given keys to the storage area while on earlier duties.
Crew members rushed to the room when they heard a gunshot and saw the 20-year-old sailor lying in a pool of blood.
Mr Cable said a phone was found next to Mr Hatton's body playing the song Live Forever by Oasis.
And the inquest heard a note was found which said: "To all my friends and family, I am sorry. I love you all. Sorry for all the trouble I have caused."
The inquest continues.